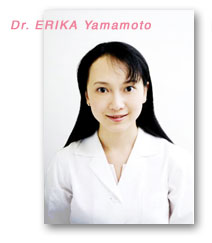 At Oji Eye Clinic, we always strive to provide the best possible services for our patients. We provide a friendly, at-home environment in a convenient location. Closely linked with the local community, we offer clear and easy-to-understand diagnosis.
Our services start with basic ophthalmology and extend to many kinds of eye disorders such as glaucoma, diabetic retinopathy and other adult eye problems, dry eye, and early diagnosis of cataracts. We offer treatment for myopia, astigmatism, irregular astigmatism, and other refractive errors.
We actively provide you referrals with specialty hospitals or other doctors for a second opinion if you desire.
Also, as we know you're busy and we value your time, we provide a good balance of speed and efficient interactions. Diagnoses are available in Japanese, English and Chinese.
Clinic Director: Dr. Erika Yamamoto